Colin Pearce speaks and light bulbs happen.
When Colin Pearce is your conference keynote speaker, training presenter or workshop facilitator, your people listen, laugh and change.
Why?
Because Colin is a funny, feisty presenter who gets his message across in a style that is easily digested. People put what he says into practice the next day – that makes you look good – to everyone!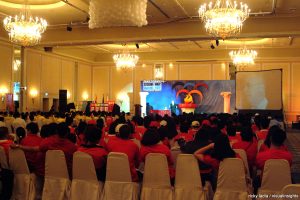 An hour or a day with Colin is certain to bring you at least one of these outcomes if not all of them!
less stress
team less affected by negative circumstances
better teamwork and harmony
a more positive atmosphere
better relationships with customers
less blame laying
people aiming for more in their life
changed attitudes to productivity
"Colin's contribution to this year's property Management Conference not only fulfilled our expectations but, in fact, far outweighed them. His presentation gave our conference an absolute spark. The quality, popularity and inclusiveness of the presentation ensured that the audience was not only extremely well-informed but thoroughly enjoyed the way the message was delivered. Colin generated an atmosphere of learning, fun, enjoyment and, most of all, participation." – Anita Brekalo

Anita Brekalo, Events Co-ordinator. First National Real Estate
---
Storytelling works
Everything is story. You are the sum total of your stories so far. So is your business, your club, your association. And the same is true for your family, your religion (or distaste for it) , your entire values system.
Elements of these topics can apply according to time available, be it a day or a workshop/stage presentation.
Why storytelling works and why it's not just for kids
The history and importance of storytelling
When to tell stories to teams and members
Techniques for effective storytelling
How storytelling serves your culture
How the wrong stories can mess up your culture
If you have a sick culture, you either have a sick story or you had a good story and you've forgotten it. If you have a healthy culture, you can only keep it that way by reinvigorating your story.
If you don't have a good story that captures your culture, I'll help you get one fast before you and your precious history die out.
---
You are ten times better than you think
Motivation is about realising you are the B.E.S.T. ie Big, Exciting, Smart and Talented – seeing a picture of your bigger and better self, giving bigger and better service and having bigger and better relationships at work. Filled with stories and outlandish stage fun with audience members, this will have your audience talking about the conference for months and – being better.
On behalf of Neways International, thank you for being part of our Pacific Rim Convention. The feedback regarding our event has been fantastic – and people are raving about your presentation. It was indeed, so refreshing and motivating to have you commence our Friday plenary with 'G'day G'day'. – Carolyn Fletcher

Carolyn Fletcher, Convention Coordinator
You were 10 times better than I ever imagined…your presentation reinforced that it is these simple things which can make a difference.

SA Employers Chamber of Commerce & industry
---
You are your A.S.S.E.T.S.
This is no ordinary customer service yack, yack, yack. Here's the gist of it:He gets your people to focus on their A-Appearance so they never suffer from store blindness. Your people will know why eye contact and S-Smiling is fundamental to human interaction and none of your customers will be left stranded again. Colin will teach your people the language of S-Sounding happy to help and you wait til he goes to town on E-Enthusiasm. They'll be leaping out of their socks. It's hard to describe here but he will have your team performing 'No! T-Thank YOU !!' for months. When Colin rams home the philosophy of the S-Servant heart you'll see a few red faces but you'll get customer service performance like you've never seen from then on.
Getting you as our speaker for our Franchisees and Managers convention was the best decision we have made. Everybody loved you! We all had fun while learning your valuable lessons in customer service. You taught us the MAGIC in drawing customers and keeping them for life, and this is SERVICE from the HEART! – Froilan M. Manotok

Froilan M. Manotok, Business & Franchise Development Manager, Greenwich Pizza, Philippines
Your commendable work was not only motivational and informative, but very entertaining as well.

Young President's Organisation – Nairobi (Kenya)
---
Make More Money From Every Sale
When you know what to do and what to say, you will make more money from every sale! Add-on sales skills are what you need to boost your sales results to an all-time high. Learn why you should do it, why it's hard when you don't know, and how to turn your staff into Add-on sales champions!
Colin says
you CAN make more money from every sale
you SHOULD make more money from every sale
WHY you DON'T make more money from every sale
HOW to make more money from every sale
"We had Colin speak to two groups of our managers and on the second day we had to tell him not to teach his ice cream selling technique because the stores had already run out of ice cream by mid morning. It was hilarious." – Raffy De La Rosa

Raffy De La Rosa: CEO, Chow King Franchise Philippines
"We had never sold more than 28 wheels in a month as an entire group. Doing what Colin taught us, all our stores increased wheel sales dramatically and many of our stores sold over 100 wheels in the first month in their own right. And years later they are still doing it" – Kevin Marks

Kevin Marks, Bob Jane T-Marts (SA)
"Colin taught me to sell more coffee. I would normally sell 5 mugs on a Saturday but on the first day after he taught me what to do I sold 95!!" – Hanna

Hanna, a Muffin Break barrista
"Colin worked with us for 8 years and everyone who did what he told them about add-on selling made a killing. One of our bakeries made $100,000 extra profit in just one year by following Colin's rules." – Michael Sherlock

Michael Sherlock, as Chairman of Brumby's Bakeries
---
Speed read people in a blink
Now, you'll achieve your objectives without pressure, without stress and with more control! This topic is the result of years of Colin's experiences and research with people of all ages from dozens of cultures and with organisations of six to thousands of people. He outlines the four temperament groups into which all members of the human family fall – regardless of race, nationality, gender or age and then gives you practical hints on what to do and say to help them give you their best
Colin imparts knowledge and techniques with humour and patience. The best value speaker on the planet. – Denis McFadden

Denis McFadden, MD, Just Cuts, Sydney
It was a great to see you in action, you were fantastic! Thanks for your insights on communication. I really enjoyed it and it will help get me to the next level.

Young President's Organisation – Lisbon (Portugal)
Your seminars are fantastic and truly motivating for all involved. The Personality Profiling was particularly a hit with the team continuing to talk for days after how they were analysing their clients and responding to them accordingly. It was brilliant…and certainly lots of fun!

Anthony Toop, Toop and Toop Real Estate
"I have never heard of a video crew coming back after-hours to watch a speaker's presentation but our crew did and like everyone at the conference, they again laughed till their sides hurt. – B.K. Boreyko"

BK is CEO and President, New Vision, Phoenix, Arizona
"What a performer. You were great and totally hit the right note." – Carey Cox

Carey Cox, Mentors and Business Coaches International