This is the first post of the next iteration of my Blog. I'm calling this series, Storytelling works!
As a kick off I'm highlighting the main points from my white paper called Storytelling Works. I'm inviting you to download the complete article and read it. It will get us on the same page from now on when it comes to storytelling,
what I mean by storytelling,
why it works,
who it's for,
how you should use it and
how you will benefit from adopting storytelling as your communication style.
I've also posted the first podcast in this series here. An believe it or not it's also titled, Storytelling works.
The main highlights of the White paper
The mention of storytelling for business used to irk business leaders.
In the 80s and 90s storytelling evoked a default negative response, because 'storytelling' conjured images of picture books, library performers in silly hats, jugglers, kiddies' parties and bed time. When coupled with the word 'business', it sounded ridiculous.
You already know how well storytelling works
Most people don't think about the role stories play in their lives until I ask them to open up. Even then they have trouble recalling stories.
I say, 'Come on. You go to the movies. You read novels. You watch Netix series. You watch the evening news.
'No', they say. 'They are movies and novels and TV. They're different from stories.' And then as the realisation hits them, they add, 'Yeah, I guess they're the same. I was thinking about Goldilocks and the Three Bears.'
You're not a half bad storyteller yourself
You say you couldn't tell a story to save yourself but think about this:tell stories all the time.Remember when you were ripped off at the supermarket?
Remember when the price of petrol went up just before you lled your tank.
Remember when someone bad- mouthed you at work?
Remember when your team got the wrong end of the stick from the umpire?
Remember when you were on hold for 45 minutes with the electricity company office?
You were not shy about telling someone about it—even telling everyone you came across for the next two days.
What's the white paper about?
This paper looks at the world's fascination with story and asks how you are using storytelling yourself, to build connection, to create harmony, encourage productivity, engagement, and – I dare to say it – build love and world peace.
The only thing you can do is get your story straight and live up to it.
Download this free white paper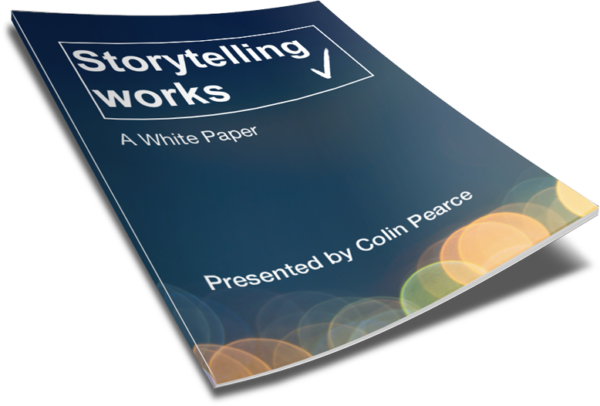 I am white-hot passionate about storytelling and what it will do for you personally,  and in your business.