To listen to this week's BE SO GOOD PODCAST Episode #014: Go Here
To watch the same BE SO GOOD PODCAST Episode #014 on You Tube, go here
Graham Agnew is the 

guest

 in Episode 014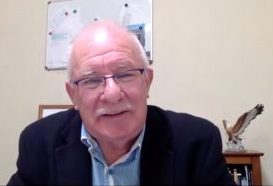 Graham Agnew is a leader. He has a visionary style. He also has an acute understanding of the human spirit.
This has been sharpened by his part time activities as a Dale Carnegie lecturer and his full time role as a leading Church of Christ Minister since his twenties.
Graham is so well respected by his church denomination that for nearly 20 years he has been a co-leader of an annual study tour of the church scene in the USA for young pastors.
He is also one of the go-to men asked to help local parishes who are struggling with forming their own vision and choosing their next generation of leaders. In this episode, #014 of the BE SO GOOD PODCAST Graham and I chat about living without stress in a stressful world.
Disclaimer:
We both admit to being stressed from time to time.
Graham had a fear of flying (actually no-one has a fear of flying. It's unplanned CESSATION flying that worry us).
He explains how he unstressed about it.
He also had a dog phobia which stressed him occasionally, especially visiting shut-ins who owned a house dog.

There's a difference between short term stress and a strung-out life.
Most stress is not permanent.  In the interview we talk about people who live in a constant state of being wound up. Graham notices that people who are strung tight in normal living are the most likely to become highly stressed in a health crisis or a family issue. He points out that they are most likely to be in poor health to go with it.
So it's worth casting off your feelings of being stressed
You'll be easier to live with at home.
> You'll be easier to work for.
> You'll be easier to employ.
> People will get on better with you
> You'll be happier.
> You'll probably live longer and enjoy doing it.
A few thoughts on de-stressing
Graham likes to drive to wind down.
I like to propagate plants to unwind.
Some people run.
Some people train their dog.
There's also fishing, sailing, swimming, cooking for fun, preserving, painting, playing an instrument, walking, praying, reading, craft, quilting, carpentry, … Notice most of these take place away from other people.
Sleeping all day doesn't count because 7-10 hours at night is regulation. Needing more is a hint that it ought to be discussed with a health professional.
What do you do?
What could you do?
Getting drunk or high doesn't count because each has its own built-in, long-term stressors.
Subscribe, listen, download and comment in i-Tunes
Watch the BE SO GOOD PODCAST on You Tube here
TRY OUT THE COLIN PEARCE ACADEMY FOR 30 DAYS – FREE
Who should get the 30 Day trial?
The Colin Pearce Academy is built with these people in mind. Most likely it's YOU.
> Business owners
> Business managers
> Practice owners
> Practice managers
You're most likely to have some or all of these needs;
> you need to get your people selling more and faster
> you need to induct new salespeople and team members sooner
> you need support and admin staff to convert incoming phone calls to sales and appointments
> you need to help struggling team members build their life skills
> you need to build better staff and costomer relationships
Are you this person?
If you are, this offer is too good to miss. You can have access to everything in the Academy at no cost (actually it's $1) for a 30 day look-see.
F.R.E.E. (OK. Except for the dollar. just under 3¢ per day. I have to take your cc details at the start because that's the way the system works, but I will only charge you $1.)
Before the 30 days are up you can either withdraw or you can stay, in the event of which the system will make a charge of $77 for staying on. That will be your second month paid for in advance at that time, and again I say, you stay as long as you like, or withdraw when you are full.
Go to Colin Pearce Academy and hit Enroll. At the enrollment page, use this coupon code. feb30days