---
Australia is the land of the franchise
Franchising in Australia is responsible for employing about 80,000 people and turns over $144 billion. There are 1,000 franchise companies in Australia: about a quarter of the world's total number. Yes, a quarter in a population of only 25,000,000 That makes franchise relationships rather important, don't you think?
House-hold names
You know many as house-hold names: MacDonalds, KFC, Hungry Jacks, Subway, 7/11, Australia Post, Bakers Delight, Brumby's, V.I.P. Home Services, LJ Hooker, to mention a few. There are nearly 1,000 more you wouldn't know about just by looking. It's big business.
Targets on their tummies
It sometimes feels to operators that franchising has a target on its tummy. For some reason, news rags and broadcasters report on franchising in such a way that makes all franchising seen as grubby business where 'Big Money' takes advantage of 'Little Money'. There is little reporting on the importance of the franchise relationship that do work.
Great communities
Occasionally there are slip ups and the occasional dodgy operator comes to light but franchising is a respected way for ordinary people to make a really satisfying living. I have been engaged by some of the most wonderful franchise companies in Australia, Philippines and New Zealand and have met thousands of happy and successful franchisees through the process. Their main source of praise is the franchise relationship between head office, field teams and the local operators.
Episode 024 – Greg Nathan is my guest
Episodes 024 of the BE SO GOOD PODCAST features one of the most important cogs in the franchising wheel. It's Greg Nathan, a house-hold name among franchisees and in any discussion of franchise relationships. He is the founder and director of Franchise Relations Institute. 
Well credentialed
Greg has been a franchisee – a Brumby's Bakery partner in fact.
He has worked for the head office representing the franchisor.
Greg has a degree in psychology and has practised in the clinical side of the craft.
He has written five books on franchising and relationship building. See them here.
Greg's famous curves
There's hardly a franchise owner who has not been enthralled by Greg's model of a franchisee's life and their relationship with the franchisor. He explains his graph in terms anyoine can understand and even suggests that his modelling applies to families; marriages, teenagers and even every-day boss & employee arrangements.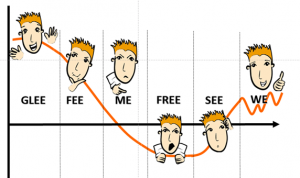 Greg explains this model in the interview. it tracks the path of franchisees in their relationship with their franchisor.
Glee: It starts with joy and enthusiasm
Fee: Suddenly the reality of paying regular fees pops up.
Me: The franchisees wonder what they're getting for the money
Free: They start to think they could do business opt their own.
See: Then they see that there are more benefits than they've been seeing
We: Finally the two live happily ever after ( but only when the relationship has been nurtured.
But he deepens the conversation with a discussion about how franchisors (the people who own the brand and parent company) have to lead with integrity. he describes what that kind of integrity looks like. We often see media reports about failing franchises and it's always the failure to follow these leadership principles that brings companies down –  and other small businesses – and governmen – and families.
Listen on the BE SO GOOD PODCAST page here
Listen, comment, subscribe, download in i-Tunes
Watch the interview on You Tube
---
FRESHEN YOUR JOURNEY TO BEING SO GOOD THEY CAN'T IGNORE YOU
TRY OUT THE COLIN PEARCE ACADEMY FOR 14 DAYS – FREE
Who should get the 14 Day trial?
F.R.E.E. (OK. Except for a dollar–just under 3¢ per day. I have to take your cc details at the start because that's the way the system works, but I will only charge you $1.)
Go to Colin Pearce Academy and hit Enroll. At the enrollment page, use this coupon code. 14daytrial
14 DAYS FREE TRIAL – MONITORED
I'll be noting your access and progress and offering help as you need it – FREE. I want to help you get all the help you need to win buyers' confidence by making INSTANT rapport. I want you to be able to convert all your inbound leads – you know; the leads you've spend cold hard cash to entice to call. The Colin Pearce Academy is built with these people in mind. Most likely it's you.
> Business owners
> Business managers
> Practice owners
> Practice managers
Such people have these needs;
> they need to get their people selling more and faster
> they need to induct new salespeople and team members sooner
> they need support and admin staff to convert incoming phone calls top sales and appointments
> they need to help struggling team members build their life skills
> they need to build better staff and customer relationships
Are you this person? There's no need to worry about it. Here's the solution.
If you are bothered with these issues, this offer is too good to miss. You can have access to everything in the Academy at no cost (actually it's $1) for a 30 day (stress-free) look-see.
Before the 14 days are up you can either withdraw or you can stay, in the event of which the system will make a charge of $77 for staying on. That will be your second month and again you stay as long as you like, or withdraw when you are full.
Go to Colin Pearce Academy and hit Enroll. At the enrollment page, use this coupon code. 14daytrial